LSUE Names Chancellor's List For Spring 2023 Semester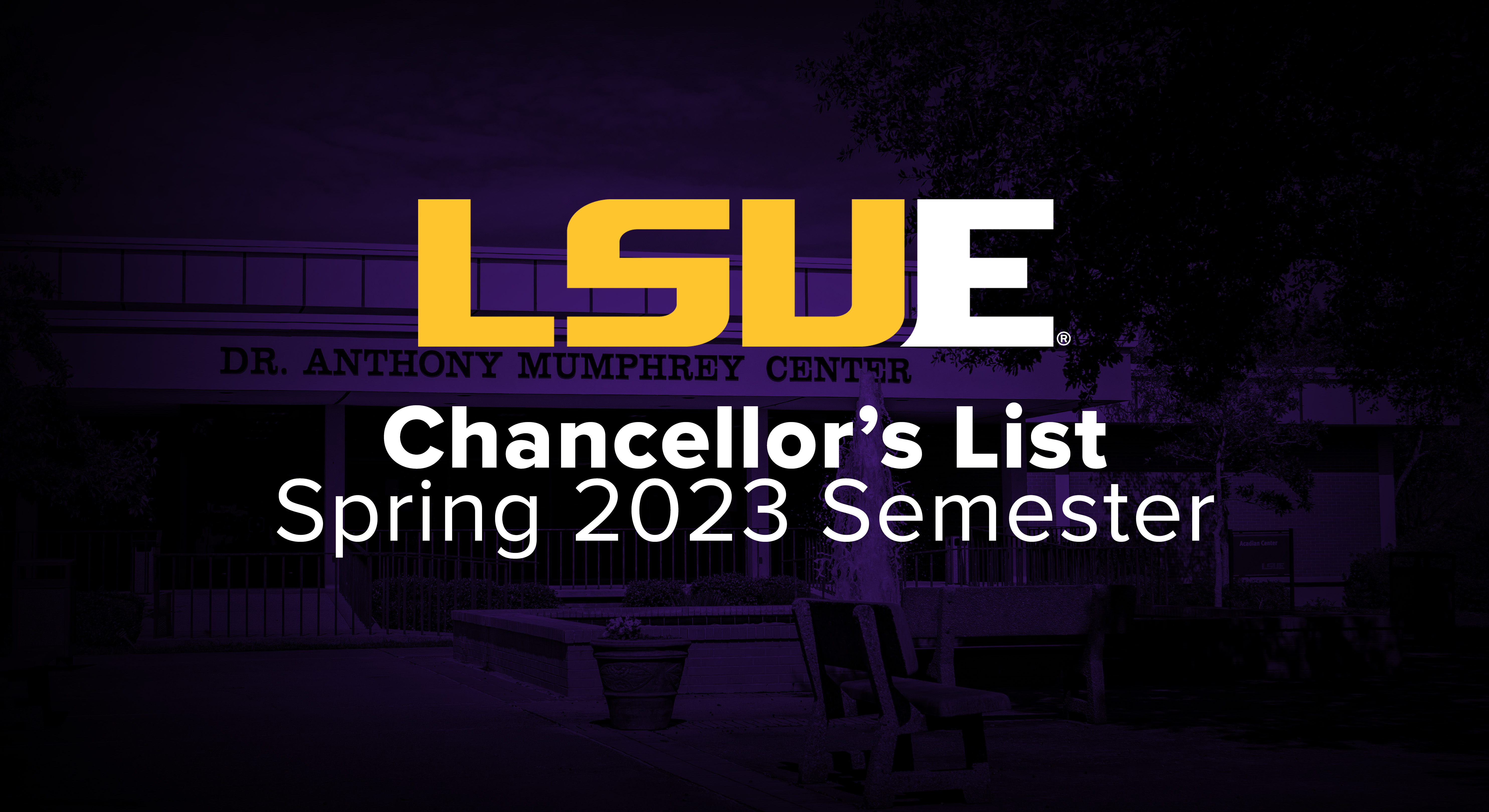 EUNICE, La. – Louisiana State University Eunice is proud to announce 339 students have been given Chancellor's List recognition for the 2023 Spring Semester.
To be named to the Chancellor's List a student must have full-time status, completing 12 credit hours during the semester, and maintain at least a 3.5 grade point average (GPA) on a 4.0 scale.
Students named to this semester's Chancellor's List are:
Abbeville: Ali Comeaux, Bree Hebert, Mackenzie McLean, Sydni Montet, Brittanie Reynaud, Kaya Thibodeaux, Evony Thurman,

Alexandria: Edward Roberts,

Arnaudville: Alysse Degueyter, Alexis Johnson, Alyse Rider,

Basile: Daisy Berzas, Kimberley Bihm, Madison Comeaux, Destiny Dupuy, Alex Guidroz, Tori Guidry, Caitlyn Klumpp, Henley Lejeune, Gracie Sanchez, Aubrey Thompson,

Baton Rouge: Jolie Carpenter, Katie Salling, Tariq Scott,

Branch: Alexis Hayes, Hunter Miller, Molly Sonnier, Anya Zaunbrecher,

Breaux Bridge: Angelle Allemond, Adele Richard,

Broussard: Anne Soileau, McKenzie Young,

Bunkie: Gracey Leonards,

Calhoun: Zachary Martin,

Cameron: Aaliyah LaBove,

Carencro: Whitney Denison, Hannah Fruge, Lillian Guillory, Melainey Guillory, Caroline Kennerson, Kaitlyn Semien,

Chataignier: Emily Fontenot,

Church Point: Lindsey Bearb, Daven Benoit, Gabrielle Bergeron, Andee Bullock, Alexis Fontenot, Dylan Gary, Abby Gianfala, Zeb Kennerson, Ashley Kibodeaux, McKenzie Latiolais, Courtney LeJeune, Nadia Miller, Lajuan Milstead, Krista Romero, Margaret Thibodeaux, Tristen Venable, Ana Wimberley, Zan Wimberley, Waylon Young,

Crowley: Maddison Allbritton, Zoe Doucet, Taylor Doughty, Annsley Gatte, Pilar Morris, Brianna Spell, Nicholas Swacker, Rory Thibodeaux, Camille Trahan,

Darrow: Tyler Bridgewater,

Denham Springs: Madison Powell,

Destrehan: Nicholas Morrow,

Deville: Casey Ahart,

Duson: Sydnee Fuselier, Collin Miller, Kaitlyn Ryder, Isabelle Smith, Kara Vaughn,

Egan: Allie Dyke, Ella Jabusch, Madisun Lacombe,

Elton: Brady Chapman, Vivian Deshotel, Natasha Friday, Amanda Valdez, Mya Velasquez,

Eunice: Kelsea Aguillard, Amit Aharoni, Destiny Allison, Samantha Ashford, Raquel Bernard, Hannah Boudreaux, Libby Bult, Joel Clavier, Brody Dawson, Garrett Dubois, Zoe Duplechain, Ian Dupre, Hailey Francois, Gregory Fruge, Ayat Hassan, Cody Lalonde, Diana Lastrapes, Dagan Lejeune, Lucia Lorenzo Parga, Elizabeth McGee, Ali Myers, Jonah Papillion, Leah Rabon, Alli Sittig, Zoie Zaunbrecher,

Glenmora: Mikayla Cashdollar, Jami Shows,

Gonzales: Abbie Delaune,

Gramercy: Allie Bland,

Grand Coteau: Chanelle Melancon,

Greensburg: Felicia Lee,

Greenwell Springs: Nicholas Novo, Taylor Walters,

Gueydan: Natalie Hargrave,

Hackberry: Blaine Picou,

Hammond: Madeline Caraway, Seth Goree, Emily Hoover,

Holden: Blake Lobell,

Homer: Dakota Nalitt,

Houma: Ellyse Henry,

Iota: Ryley Crochet, Miya Fontenot, Hallee Gardner, Kaitlin Hebert, Maryln LaFleur, Alex LeJeune, Britney Leckelt, Summer Semar, Katelynn Sonnier,

Jackson: Jacob Agazzi,

Jennings: Kayla Babineaux, Aniston Blanchard, Joshua Casiano, Morgan Duhon, Bryce Fontenot, Morgan Hebert, Kylee Mullen, Elijah Pickle, Jolie Richardson, Nicole Thibodeaux,

Kaplan: Maci Gaspard, Brooke LeDoux, Jenna Romero,

Kinder: Sydney Seemion, Craig Sheppard,

Krotz Springs: Kristen Lejeune, Lauren Reed,

Lacombe: Jacob Moore,

Lafayette: Tara Andrus, Zachary Angelle, Lyndi Bourque, Seth Brasseaux, Nicholas Duplechain, Michael Franco, Megan Heinzl, Chelsea Kilchrist, Margaret Landry, Andrew Lee, Chelsie Lemaire, Zachary McAdams, Nina McManus, Felicity Mouton, Hannah Mudge, Reagan Ratcliff, Tara Rogers, John Sahuc, Alexander Saunier, Jack Stefanski, Joelton Vidos, Madison Williams,

Lake Arthur: Brennan Young, Kaitlyn Young,

Lake Charles: Maci Baldwin, Mari Baldwin, Madison Chretien, Crawford Courville, Alexis Hodges, Parker Morgan, Keoshia Reeder,

Leesville: Chloe Bennett, Avery Coffman,

Leonville: Briana Mayon, Jercinder Reed,

Livingston: Kaitlyn Savant,

Longville: Whitney Davis, Samantha Simpkins, Brittney Vidrine,

Loreauville: Natalie Bourque,

Luling: Sara Roussel,

Mamou: Kennedy Ardoin, Bobbie Jo Godeaux, Kaylie Granger, Ella Miller, Treyton O'Connor,

Mandeville: Sahraya Mcfarlan,

Mansura: Sharon Dupont,

Maurice: Madison Landry,

Midland: Kelsie Suire,

Monroe: Brandon Brewer, Jacob McCullars,

Moreauville: Lillian Guillot,

Morse: Armiley Stutes, Macie Vedalier,

Natchez: Patrick Vienne,

New Iberia: Amber Boutte, Tayte Hebert, Minh Ho, Madison Johnson, Lexy Schexnayder,

New Orleans: Nanette Colomb,

Oakdale: Carrie Hardy, Zyterious Spikes,

Oberlin: Christopher Fontenot,

Olla: Landri Campbell,

Opelousas: Rebekah Arredondo, Amaya Babineaux, Cameron Beaugh, Madison Castille, Raven Celestine, Layla DePrimo, Ethan Dupre, Christina Gallien, Charles LaJack, Ellie Lafleur, Averi Landry, Luke Leger, Briley Noel, Braylon Richard, Katie Richard, Mia Richard, Thorne Shaheen, Hailey Sylvester,
Palmetto: AnnMarie Brown, Lily-Jo Pitcher,

Pine Prairie: Sydney Swart,

Pineville: Sina Ballew, Sydnee Ratcliff, Antoinette Washington,

Ponchatoula: Markayla Goodin,

Port Allen: Asia Jackson,

Port Barre: Kennedi Aymond, Alli Ledoux, Mason Leger, Kade Vidrine,

Prairieville: Victoria Passman, Tanner Vadnais,

Rayne: Hanna Babineaux, Carly Bergeron, Kamrie Breaux, Karson Broussard, Averi Brown, Ashley Castille, Dax Constantin, Asiah Dupont, Bailey Guidry, Serianna Guthrie, Chelsea Istre, Tijah Jones, Alaina Kibodeaux, Domonique Short, Hailey Signorelli, Sydnei Simon, Kailyn Whitted, Lashardae Williams, Ben Zaunbrecher,

Ruston: Morgan Bean, Saraelen Jones, Dawson Willis,

Saint Martinville: Kylie Huval,

Scott: Cole Ingram,

Slidell: Victoria Johnson, Tessa Trahan,

Springfield: Lauren Dufrene,

Sulphur: Michael Thomas,

Ville Platte: Mikie Attle, Madi Bertrand, Everett Blanchet, Halle Clark, Madisyn Fava, Colleen Fontenot, Kaitlyn Fontenot, Dajayana Gallow, Gabriella Grijalva, Christopher Lalonde, Jyrah Leday, Trinity Leday, Madison Manuel, Trinton Pitre, Charlie Soileau, Saniah Williams,

Walker: Brooklynn Ray,

Washington: Grace Chelette, Brette Doyle, Brennen Rider, Amelia Tate,

Watson: Zain Qureshi,

Welsh: Berkina Prudhomme,

Winnfield: Cassidy Martin,

Youngsville: Aubri Arabie, Emily Beckworth, Grace Broussard, Peyton Foreman, Camille Molbert, Konner Morrison, Alaina Mowry, Lydia Norman, Gabrielle Poche, Allison Young,

Zachary: Steven Jagielski, Taylor Palmer,

Burlington, Ontario, Canada: William Watt,

Cape Town, South Africa: Leigh Brophy,

East Point: Andrika Daniels,

Fort Bragg: Stefan Adducci,

Garnderville: Eric Cawthorne,

Auckland, New Zealand: Kiani Saxon,

Houston, Texas: Siddiq Lezzar,

London, England: Jasmine Liddell,

Jesup, Georgia: Zachary Thomas,

Kamakkura, Japan: Kei Nagakura,

Kingsland: Victoria Kelly,

Madrid, Spain: Claudia Jimenez,

Mascot: Kristen Wilson,

Meridian: Rebecca Coffman,

Novi Sad, Serbia: Nikola Letic,

Portage: Brenda Slavik,

Royse City: Lauren Mullins,

Stockbridge: Zachary Richardson,

Montreal, Quebec, Canada: Alexandre Badji,

Clarkston, Georgia: Kon Ayok,

Cotonou, Benin: Arzika Seibou,