LSUE Set To Host Allied Health Open House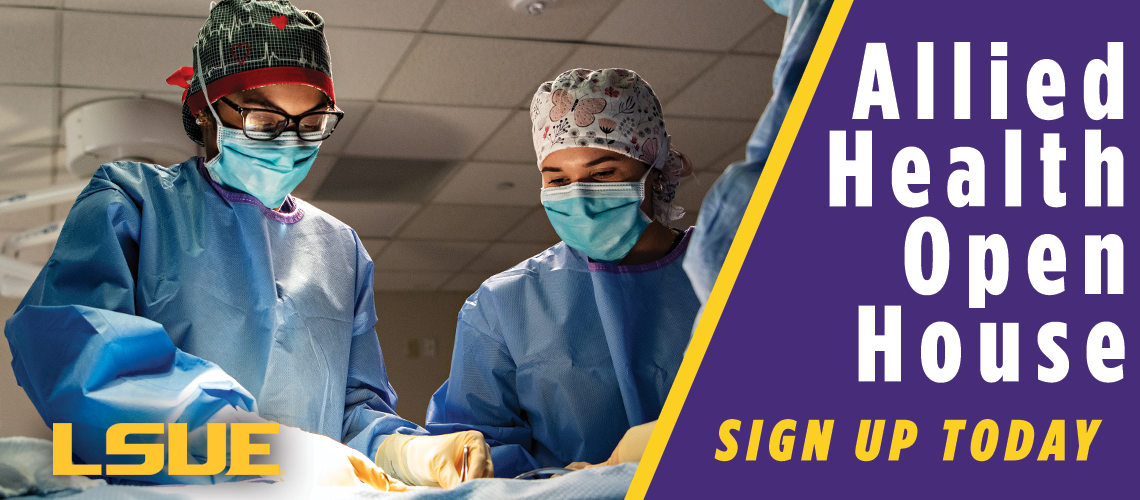 EUNICE, La. – The LSU Eunice Allied Health programs will host an open house on Wednesday, November 30. The free informational session is geared towards the adult learner, starting at 5:30PM from LSUE's Lafayette campus at the Oschner Lafayette General Orthopedic Center at 4212 West Congress Street.
Interested individuals will learn about the different allied health programs – Nursing, Respiratory Care, Radiologic Technology, Diagnostic Medical Sonography, Surgical Technology and Medical Billing and Coding. Representatives from each program will be on hand to answer any questions.
Admissions, Financial Aid and Academic officials will also be able to assist participants to apply to LSU Eunice on-site and begin course registration.
LSUE has recently announced more flexible options for prospective students in the Allied Health programs with flexible daytime, evening, weekend, and online course offerings. LSUE is also partnered with Oschner Lafayette General for a nights and weekend nursing cohort.
If you would like to register for the open house, please visit www.lsue.edu/openhouse. If you have questions, please contact LSUE Admissions Counselor Heidi Dischler at hdischle@lsue.edu.