LSU Eunice, Ochsner Lafayette General Announce Extended Partnership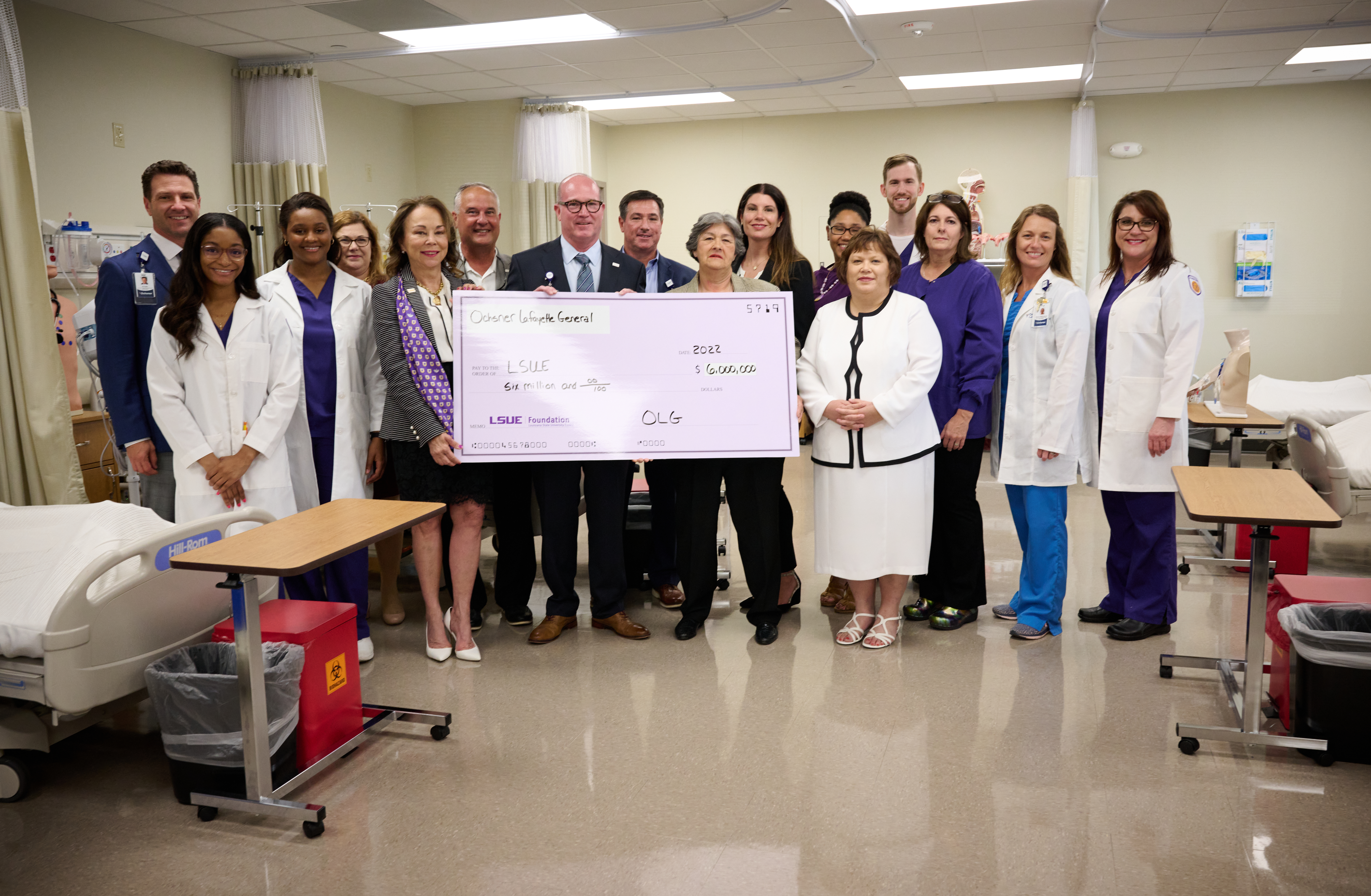 LAFAYETTE, La. – Louisiana State University at Eunice and Ochsner Lafayette General announce a contribution of nearly $700,000 towards expansion in LSUE's Allied Health programs, the two groups unveiled on Wednesday.
This is the latest in a continued partnership which has seen the healthcare system commit more than $6 million of support towards LSU Eunice Allied Health Programs.
"This is just another great example of what happens when local workforce leaders invest in our universities to help grow the area's economy," LSU Eunice Chancellor Dr. Nancee Sorenson said. "We look forward to our partnership providing south Louisiana with qualified graduates to serve as invaluable front-line healthcare workers."
The $698,000 contribution aims to help increase capacity for the Nursing and Surgical Technology programs at LSUE. The Nursing program is set to open a cohort in August 2022 focused on evening classes and weekend clinical rotation with an expansion of 30 students. Surgical Technology will add 24 more students to their program, also scheduled for August 2022. Since 2016 when the partnership between LSU Eunice and Ochsner Lafayette General began, nearly 100 nursing students have graduated in the four cohorts that were housed at the OLG campus.
"Ochsner Lafayette General is committed to investing in the communities we serve. That means we're investing not only in our facilities and quality of life initiatives that make Acadiana so great, but also our current and future employees," said Patrick Gandy, CEO, Ochsner Lafayette General. "Together with LSUE, we are educating, training and empowering a team of future healthcare workers. This is an opportunity to maximize their potential – and ours. By investing in people, we are developing a workforce to meet the most critical needs of our patients, and patients are always our #1 priority."
This large-scale commitment from Ochsner Lafayette General began in earnest in 2016 when the healthcare system donated classroom and clinical laboratory space in Lafayette. An additional donation of space was made in 2017 to launch LSUE's Surgical Technology program.
LSU Eunice serves as a leader in providing healthcare workforce for Acadiana and the greater south Louisiana area. LSUE offers associate degrees, certificates and transfer programs including nursing, surgical technology, diagnostic medical sonography, respiratory care and radiologic technology.
###
About Ochsner Lafayette General
Ochsner Lafayette General has more than 5,500 employees and serves 220,000 patients per year. The organization includes Ochsner Lafayette General Medical Center (LGMC), Ochsner Lafayette General Orthopedic Hospital, Ochsner Lafayette General Surgical Hospital, Ochsner St. Martin Hospital, Ochsner University Hospital & Clinics UHC), Ochsner Acadia General Hospital, Ochsner Abrom Kaplan Memorial Hospital, Ochsner American Legion Hospital and a number of clinics, urgent cares and professional centers. Ochsner LGMC is the only Level II Trauma Center in Southwest Louisiana. Both Ochsner LGMC and Ochsner UHC are major teaching hospitals, providing graduate medical education across many disciplines. To learn more, visit ochsnerlg.org.
About LSU Eunice
Founded in 1964, Louisiana State University at Eunice is the only comprehensive, two-year institution in the prestigious LSU system. LSU Eunice serves the greater Acadiana area in southwest Louisiana with 20 associate degrees and six certificates in technical studies. Many of these programs have received regional and national acclaim. Accredited by the Southern Association of Colleges and Schools Commission on Colleges, LSU Eunice is an open enrollment, Minority Serving Institution (MLI) committed to providing a high quality, high value education that is both accessible and affordable.