Fall 2021 Commencement Ceremony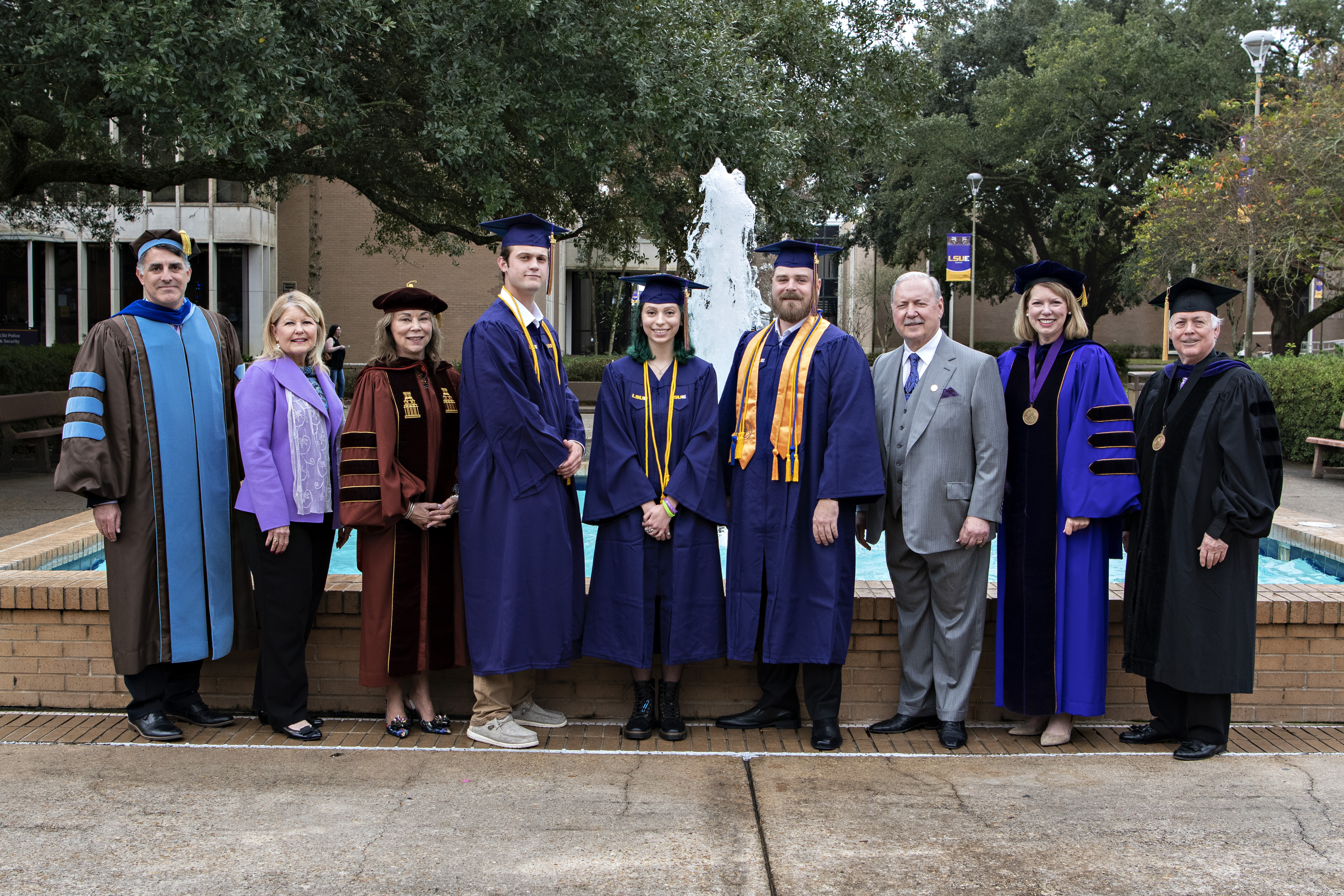 Fall 2021 Graduation – Summa Cum Laude
Graduating Summa Cum Laude honors with a grade point average of 3.8 to 4.0 are (from left to right): Grant Fontenot, Willow Oliver and Dustin Breaux. The graduates are pictured with (from left): Dr. John Hamlin, LSU Eunice Vice Chancellor of Academic Affairs; Karen Wyble, LSU Eunice Commencement Speaker; Dr. Nancee Sorenson, LSU Eunice Chancellor; Glenn Armentor, LSU Board of Supervisors; Mary Leach Werner, LSU Board of Supervisors; Patrick Morrow, LSU Board of Supervisors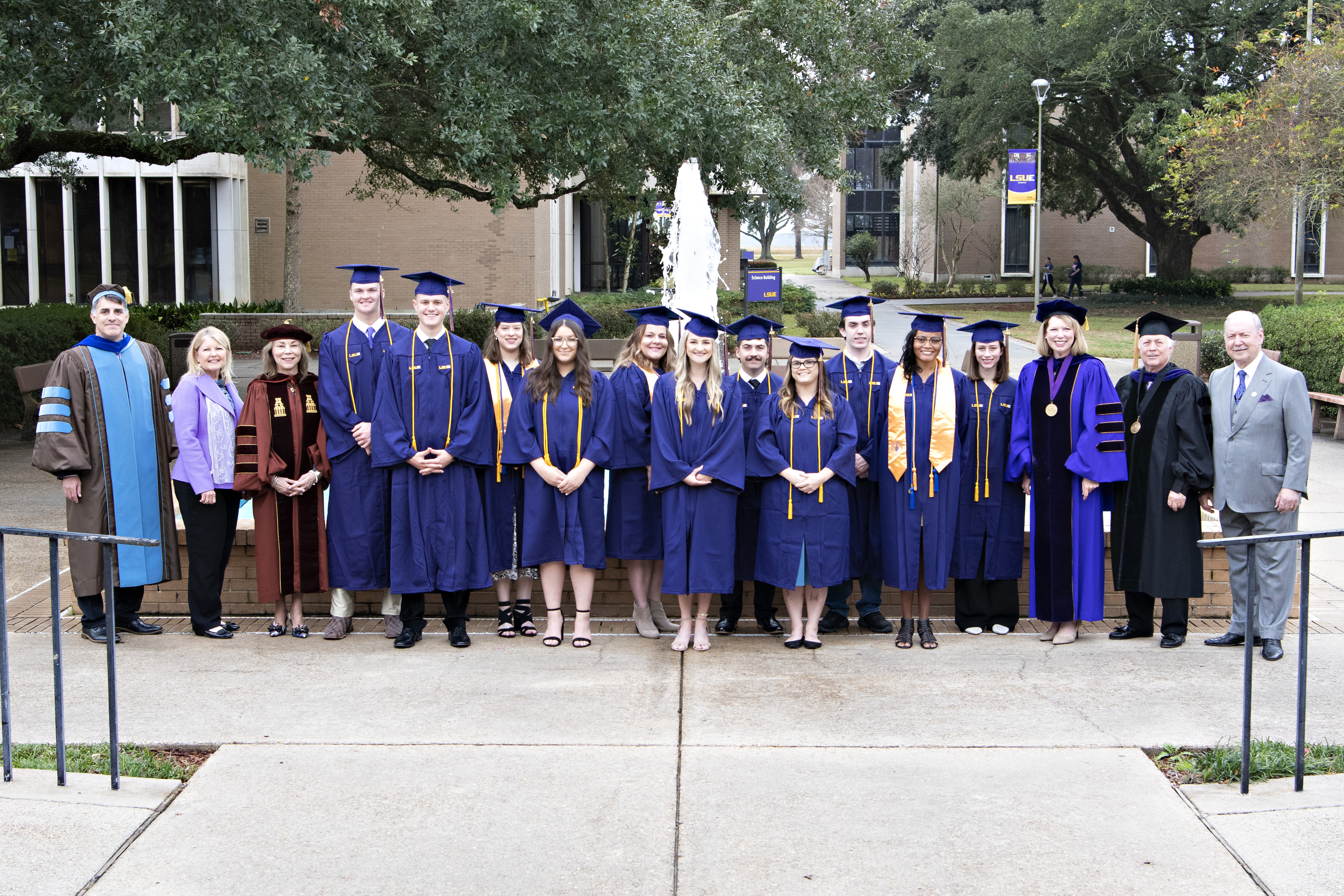 Fall 2021 Graduation – Magna Cum Laude
Graduating with Magna Cum Laude honors with a grad point average of 3.5-3.79 are (from left to right): Dalton Burrell, Jase McDonald, Elisabeth Richard, Haylee Robin, Kimberly Foret, Cassie Landry, James Boudreaux, Allyson Richard, Avery Williams, Terri Richard, Chloe Louviere. he graduates are pictured with (from left): Dr. John Hamlin, LSU Eunice Vice Chancellor of Academic Affairs; Karen Wyble, LSU Eunice Commencement Speaker; Dr. Nancee Sorenson, LSU Eunice Chancellor; Mary Leach Werner, LSU Board of Supervisors; Patrick Morrow, LSU Board of Supervisors; Glenn Armentor, LSU Board of Supervisors.
EUNICE, La. – Louisiana State Uniersity Eunice awarded 117 degrees on Friday during commencement ceremonies in the LSU Eunice HPRE Center.
Students issued degrees are listed below.
Abbeville: Lauren Trahan, Associate of General Studies; Kelly Felipe, Victoria Pillette, Timori Tullier, Associate of Science in Nursing;
Alexandria: Kewonda Williams, Associate of Science in Criminal Justice;
Arnaudville: Haylee Robin, Associate of Arts Louisiana Transfer Concentration: Business; Zachary Olivier, Associate of Science in Nursing; Allison Devillier, Amanda Huval, Associate of Science in Respiratory Care;
Basile: Bailey Vidrine, Associate of Science in Nursing; Kimberley Bihm, Certificate of Technical Studies in Medical Coding and Billing;
Baton Rouge: Shaquille Magee, Associate of Applied Science in Management; Shaquille Magee, Certificate of Technical Studies in Human Resources Management;
Bell City: Tyler Hebert, Associate of General Studies; Tyler Hebert, Associate of Science in Criminal Justice;
Bossier City: Dalton Burrell, Associate of General Studies;
Breaux Bridge: James Boudreaux, Associate of Applied Science in Fire and Emergency Services; Corey Williams, Associate of Arts Louisiana Transfer Concentration: Business; Hailey Bijeaux, Heidi Delcambre, Associate of Science in Nursing; Michelle Daigle, Sierra Monday, Certificate of Technical Studies in Medical Coding and Billing;
Broussard: Rheagan Chapman, Associate of General Studies;
Chataignier: Cassi Fontenot, Associate of General Studies;
Crowley: Terri Richard, Caleb Robinson, Associate of Arts Louisiana Transfer Concentration: Business; Caleb Miltersen Larsen, Associate of General Studies; Shyanne Mellano, Associate of Science in Nursing;
Denham Springs: Jase McDonald, Associate of Arts Louisiana Transfer Concentration: Business;
Egan: Maci Spell, Associate of General Studies; Willow Oliver, Associate of Science Louisiana Transfer Concentration: Biological;
Erath: Nicholas Landry, Associate of General Studies;
Estherwood: Brittany Klumpp, Associate of Science in Criminal Justice;
Eunice: Hailey Ortego, Associate of Applied Science in Management; Lillian Ashford, William Turk, Associate of Arts Louisiana Transfer Concentration: Business; Adriana Cufre, Lesslie Edwards, Associate of General Studies; Alexys Miller, Associate of Science in Respiratory Care;
Glynn: Kirstyn Jarreau, Associate of Science Louisiana Transfer Concentration: Biological;
Greenwell Springs: Drew Lasseigne, Associate of Arts Louisiana Transfer Concentration: Business;
Iota: Zoe Smith, Associate of Applied Science in Management; Grant Fontenot, Associate of General Studies;
Jennings: Ashari Terry, Associate of Science in Respiratory Care; Aaliyah Allen, Certificate of Technical Studies in Medical Coding and Billing;
Kaplan: Hagun Hebert, Associate of Applied Science in Management; Ayla Baugh, Associate of Science in Respiratory Care; Mykala Doucette, Certificate of Technical Studies in Medical Coding and Billing;
Lafayette: Cole Romero, Associate of Arts Louisiana Transfer Concentration: Business; Beau Kirsch, Kenedy Palumbo, Associate of Arts Louisiana Transfer Concentration: Criminal Justice; Jayla Alfred, Associate of Arts Louisiana Transfer Concentration: Social Sciences; Dustin Breaux, Kole Myers, Sophie Trahan, Associate of General Studies; David Cyrus, Madison Guidry, Chelsea Guillory, Jessica Leonard, Danaizhia Poullard, Dawn Vedros, Mariel Walker, Associate of Science in Nursing; Chloe Louviere, Jade Mouton, Associate of Science in Respiratory Care;
Lake Charles: Avery Williams, Associate of Science Louisiana Transfer Concentration: Biological; Jordan Bergeron, Associate of Science in Nursing;
Lawtell: Hannah Golden, Associate of Science in Nursing;
Lottie: Jake Hendricks, Associate of Science in Nursing;
Mamou: Dalie Gradney, Associate of Applied Science in Management; Haleigh Fuselier, Associate of Science in Respiratory Care; Dalie Gradney, Certificate of Technical Studies in Human Resources Management;
Mandeville: Elizabeth Yandle, Certificate of Technical Studies in Medical Coding and Billing;
Marksville: Jordan Guillory, Associate of General Studies;
Melville: Chelsea Washington, Associate of Arts Louisiana Transfer Concentration: Business;
Morse: Gracie Hebert, Associate of Applied Science in Management;
New Iberia: Sierra DeRouen, Associate of General Studies; Kennedy Williams, Associate of Science in Health Science; Madi Walet, Associate of Science in Nursing; Kimberly Foret, Certificate of Technical Studies in Medical Coding and Billing;
New Orleans: Michele Ulness, Certificate of Technical Studies in Medical Coding and Billing;
Oberlin: Haley Taylor, Associate of Science Louisiana Transfer Concentration: Biological;
Opelousas: Clifton Malbrough, Associate of Applied Science in Computer Information Technology; Adam Bordelon, Associate of Applied Science in Fire and Emergency Services; Sydni Johnson, Brandon Theriot, Associate of Arts Louisiana Transfer Concentration: Business; Vanda Farhat, Associate of Science in Respiratory Care; Jennifer Richard, Certificate of Technical Studies in Medical Coding and Billing;
Pineville: Trenard Moss, Associate of Science in Criminal Justice;
Port Barre: Danielle LeBlanc, Associate of General Studies; Hollie Olivier, Associate of Science in Respiratory Care;
Pride: Krystal Stubbs, Associate of Applied Science in Fire and Emergency Services;
Rayne: Kaitlyn Coupel, Michaela Dupont, Allyson Richard, Kiley Schnepel, Associate of General Studies; Meredith Raspberry, Associate of Science in Respiratory Care; Misty McCrory, Certificate of Technical Studies in Medical Coding and Billing;
Scott: Callie Breaux, Tanner LaPorte, Associate of Arts Louisiana Transfer Concentration: Business;
Slidell: Gary Jones, Associate of Applied Science in Fire and Emergency Services;
St. Martinville: La'Aves Ledet, Associate of Science in Respiratory Care;
Sunset: Tabitha Hornsby, Associate of Science in Nursing; Stephanie Hayes, Jaymee Spurgeon, Certificate of Technical Studies in Medical Coding and Billing;
Ville Platte: Gabrielle Briscoe, Associate of General Studies; Roland Landry, Associate of Applied Science in Management; Chrystian Serie, Associate of Arts Louisiana Transfer Concentration: Fine Arts; Taylor Clement, Alec Fontenot, Kalyn Fontenot, Kimberly Fontenot, Associate of General Studies; David Bertrand, Associate of Science Louisiana Transfer Concentration: Biological; Courtney Green, Roland Landry, Certificate of Technical Studies in Human Resources Management;
Youngsville: Taylor Doucet, Alysse Herpin, Associate of Science in Nursing; Kayla Urbina, Associate of Science in Respiratory Care;