LSUE Mourns Loss Of Dr. Charles Bier, Professor Emeritus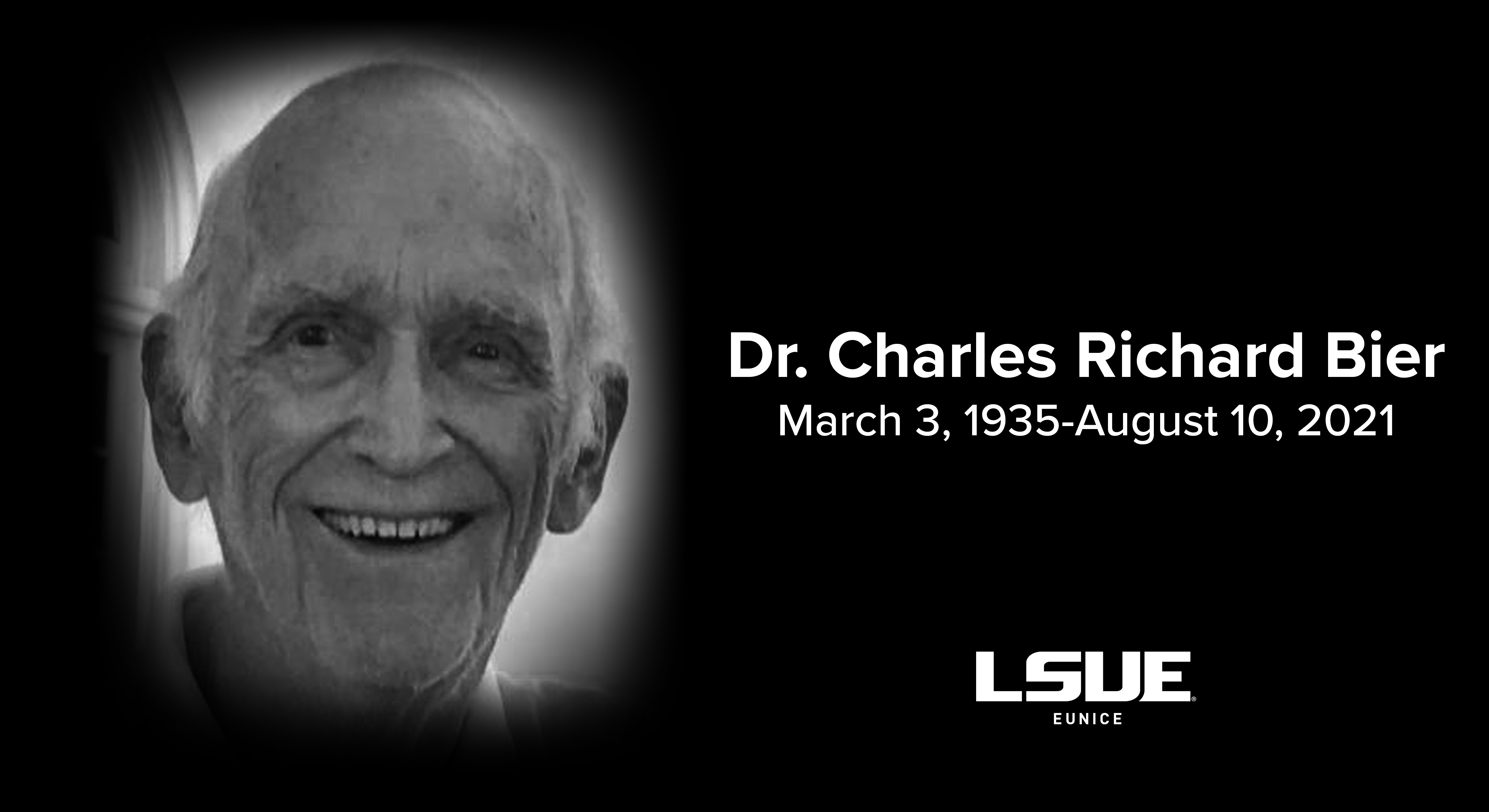 Dr. Charles Bier, a professor emeritus of English, died August 10 at the age of 86 after establishing himself as one of the pillars of the LSU Eunice faculty for more than three decades.
Dr. Bier joined LSU Eunice in 1970 as a freshman English instructor as well as those enrolled in a course in technical writing. He was promoted to associate professor at LSU Eunice in 1983 and would retire as professor emeritus in 2003.
The Crowley, La. native received his B.S. in Pharmacy from the University of Houston, his M.A. in English from the University of Texas-Austin and his doctorate from the University of Southwestern Louisiana (UL-Lafayette). His postgraduate work was completed at the University of New Mexico, where Bier taught freshman English for two years before a 33-year tenure at LSUE.
Bier also enjoyed an established career as a playwright, having been produced at the Quaigh Theater in New York City and at the Eavesdrop Theater and Hospitality House dinner theater in Lafayette. His play "Elena", which was published in the Dekalb (Ga.) Literary Arts Journal, received a first place at the Deep South Writers' and Artists' Conference at the then-named University of Southwestern Louisiana.
Another play, "Flush Times," won first in the Louisiana College Writers' Society competition. He helped establish the LSUE Theatre.
"Dickey" is survived by his wife of 51 years, Margaret Castle Bier of Crowley; one daughter, Meg Bier Heidtman of Crowley; three sons, Charles Richard Bier, Jr. and Stuart Walter Bier both of Crowley, David Lawrence Bier and his wife Hallie of The Woodlands, TX as well as ten grandchildren.
A Mass of Christian Burial will be held Friday, August 13 at 2:00PM at St. Michael the Archangel Catholic Church in Crowley. The family requests visiting hours Friday from 10:00AM to 1:45PM with a rosary being recited at 11:30AM. The United States Army veteran will be provided military honors by Fort Polk.