Courageous Conversations Series Begins February 23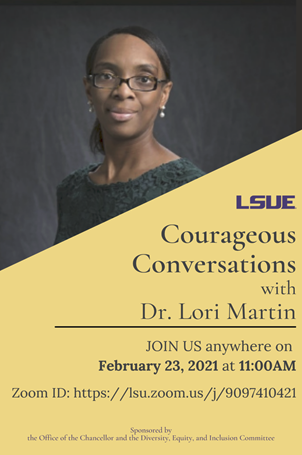 To the LSU Eunice Community.
It is with great pride and excitement that The Office of the Chancellor and the Diversity, Equity and Inclusion Committee present LSUE's inaugural "Courageous Conversations" series.
In honor of Black History Month, we wanted to kick-off what we believe will be a great asset to the LSUE community with our "Courageous Conversations". Throughout the year, we hope to have engaging speakers on such topics as race, equality, social justice and many other issues that are pressing in our country and many of our communities.
Our first speaker will be Dr. Lori Martin on Tuesday, February 23. The virtual conversation with be via ZOOM. The event is scheduled for 11:00AM and you can use the ID http://lsu.zoom.us/j/9097410421 to access.
Dr. Lori Latrice Martin is Professor of African and African American Studies and Sociology at Louisiana State University. Dr. Martin currently holds the Erich and Lea Sternberg Honors Professorship. Additionally, she is Chair of the College of Humanities and Social Sciences (HSS) Committee on Diversity and Inclusion and LSU's Faculty Athletics Representative (FAR). Dr. Martin is also Interim Director of African and African American Studies. She has written or edited more than 20 books and many journal articles and book chapters. Dr. Martin's most recent books include
Introduction to Africana Demography
and
America in Denial.
Dr. Martin's areas of expertise are race and ethnicity, racial wealth inequality, and race and sports. She is also co-chair of the Racial Equity Research Committee for the newly established organization, ABIS (Advancement of Blacks in Sports).