Nursing Candidates Receive Pins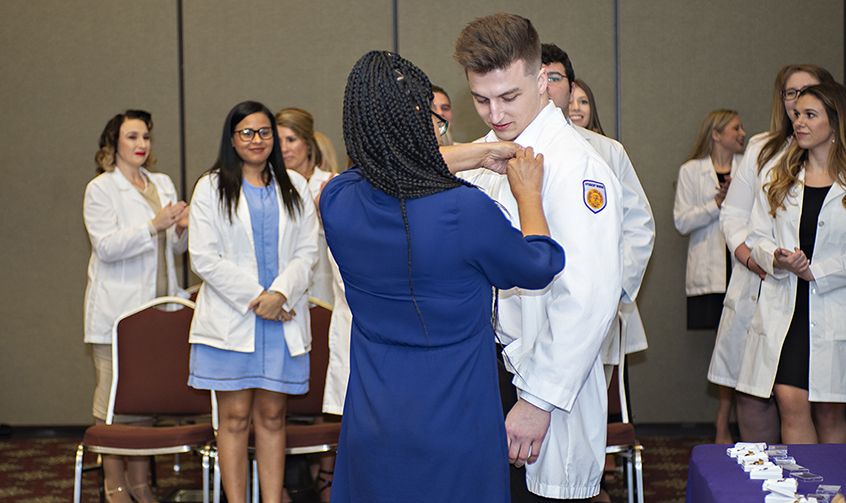 12/10/2018
LAFAYETTE -- Fifteen nursing candidates received their pins at ceremonies here Monday. The fifteen will be the first class to graduate in nursing from LSU Eunice's Lafayette General Orthopedic Hospital site.
In a unique partnership with Lafayette General Health, LSUE houses nursing and surgical technology programs in Lafayette General Orthopedic Hospital's Medical Office Building. LGH recently complete renovations to the classrooms and labs in LSU Eunice's suites. An open house and ribbon cutting for the newly renovate facilty will be held January 9th at 5:30 p.m.
Receiving their pins were Travis Bordelon of Ville Platte, Christian Bourgeois of Opelousas, Sydney Guidry of St. Martinville, Lillian Lowery of Prairieville, Lindsey Meyer of Rayne, Tori Mire of Youngsville, Destiny Nelson of St. Martinville, Alison Olivier of Carencro, Brooklyn Pitre of Opelousas, Jamie Schexnayder of New Iberia, Ashley Sharpe of Washington, Victoria Simar of Rayne, Christopher Theriot of Opelousas, Mary Verzwyvelt of Livonia and Alyson Woodard of Crowley.
The nursing pin and accompanying ceremony represents a meaningful experience for nursing students. It symbolized the completion of their educational requirements that enabled nurses to sit for the state licensure examination and then practice nursing.
The class will receive their degrees at commencement ceremonies Friday, December 14 at 10 a.m.
LSU Eunice now offers two selections for its nursing program each year. Students studying on the Eunice campus are selected in the spring semester and start in August. Selection for the Lafayette site is held in the fall semester, and classes begin in January.