Opelousas General Funds Surg Tech Program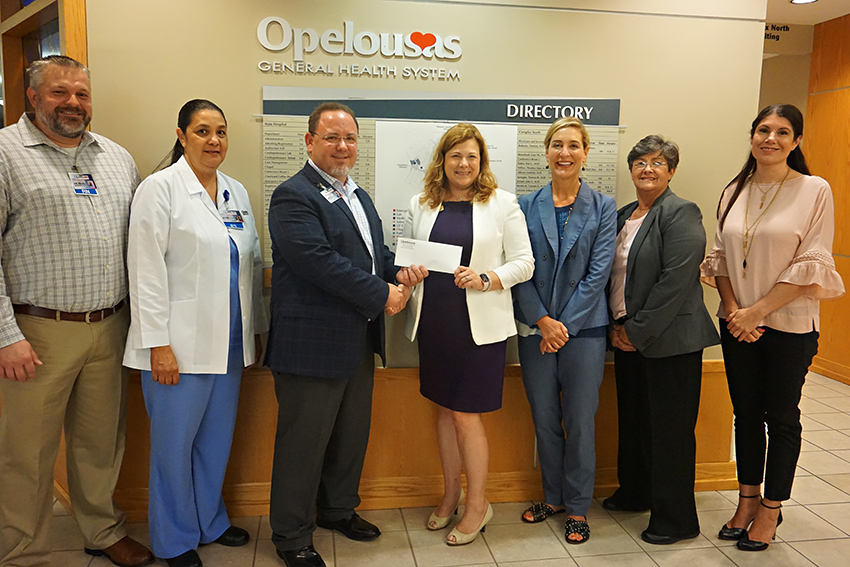 Opelousas General Health System presented LSU Eunice with a gift to support the university's new surgical technology degree program. Presenting the check were (l-r) Tim Marks, Chief Population Health & Integration Officer at Opelousas General; Jackie Simien, Chief Nursing Officer; and Ken Cochran, CEO Opelousas General Health System. Receiving the gift for LSU Eunice were Carey Lawson, Executive Director of the LSUE Foundation; Dr. Kimberly Russell, Chancellor of LSUE; Dotty McDonald, Dean of the Division of Health Sciences and Business Technology; and Renee Guillory, Program Director of LSUE's Surgical Technology program.
6/22/2018
OPELOUSAS -- A gift from the Opelousas General Health System will support Louisiana State University Eunice's new surgical technology degree program, which welcomed its first class earlier this month.

Ken Cochran, CEO of Opelousas General Health System, Jackie Simien, OHS's Chief Nursing Officer and Tim Marks, OHS's Chief Population Health & Integration Officer presenting the gift to the LSU Eunice Foundation and LSUE Chancellor Kimberly Russell.

"We are incredibly blessed to have Opelousas General as a supporter and friend of LSUE," said Russell. "Because of their belief in our mission and their gift to the future of academic medicine, we can continue to offer programs that meet the needs of Acadian's growing healthcare industry."

LSU Eunice's Associate of Surgical Technology degree program started on June 4 with 14 students enrolled in the selective admission program. Housed at Lafayette General Medical Center Southwest, the surgical technology program will train students to become valuable members of today's high tech operating rooms in as little as two years. Students will have the opportunity to work in labs that simulate real-world surgical environments and gain practical clinical experience in operating rooms.

Surgical technologists work closely with surgeons, anesthesiologists, nurse anesthetists and registered nurses to deliver specialized care before, during and after surgery.

LSU Eunice's health sciences programs are well respected in Acadiana. All of the university's programs consistently rank above the national average on the board licensing exams and have 100 percent job placement rates. LSUE offers Associates degrees in nursing, respiratory care, radiologic technology and diagnostic medical sonography.

To learn more about LSUE's surgical technology program, visit lsue.edu/academics/surgtech.

About Opelousas General Health System

Since 1957, Opelousas General Health System has been dedicated to the provision of quality healthcare through its strong commitment and high standards. Central to the success of OGHS's commitment for excellence is the presence of an outstanding and highly qualified staff of physicians, nurses, technologists and other personnel who provide professional treatment in a caring environment. Serving as the region's referral medical center, OGHS is a 225-bed, full-service medical center, and the area's most comprehensive community health care facility offering a wide range of medical specialties and state-of-the-art technology. Visit us at www.opelousasgeneral.com.

About LSU Eunice

Established in 1964, LSU Eunice is located just southwest of Eunice along Louisiana Highway 755 in Acadia Parish, near the boundaries of Evangeline and St. Landry Parishes, in a rich and fertile section of Southwest Louisiana referred to as "the tri-parish area." LSU Eunice is committed to the principle that individuals should have the opportunity to develop themselves through education commensurate with their capabilities and interests. To this end, the university strives to provide educational programs and related services which reflect and respond to the diversified interests, aptitudes, talents, needs, and goals of its constituency.

The university enrolls more than 3,000 students and has produced thousands of alumni living worldwide. LSUE offers 13 associate degree programs and numerous transfer programs in Eunice. LSU Eunice also houses developmental education programs in Alexandria and Nursing and Allied Health programs in Lafayette at Lafayette General Medical Center Southwest. Visit us at www.lsue.edu.