Rep. Stefanski Commencement Speaker
5/7/2018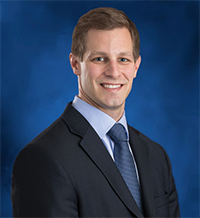 EUNICE – State Representative John Stefanski will be the commencement speaker when Louisiana State University Eunice holds spring graduation ceremonies at 10 a.m. Friday, May 11, in the gymnasium of the Health and Physical Education Building.
Over 200 students are candidates for graduation this spring.

Stefanski was elected in 2017 to represent District 42 in the Louisiana House of Representatives. He currently serves on the Administration of Criminal Justice Committee and the Agriculture, Forestry, Aquaculture, and Rural Development Committee. He is a member of the Acadiana Delegation, the Louisiana Republican Legislative Delegation, and the Louisiana Rural Caucus.

Stefanski also sits on the board of Directors of the Crowley Chamber of Commerce, the Acadiana Area Human Services District, the Acadia Parish Planning Commission, and is vice president of the Acadia Parish Bar Association.

He earned his Bachelor's degree from LSU in history in 2007 and his Juris Doctorate from Loyola University New Orleans College of Law in 2010. Stefanski is a partner in the law firm of Edwards, Stefanski and Zaunbrecher in Crowley where he practices law with his father, uncle, two first cousins, and a close family friend.

In his spare time, which he said is quite limited after being elected to the house of representatives, Stefanski likes to hunt and to fish offshore. He also volunteers as a basketball coach at the elementary school he attended in Crowley.

LSU Eunice offers associate degrees in liberal arts, science, business information technology, criminal justice, education, fire science, general studies, management, nursing, radiologic technology, respiratory care, and numerous transfer programs in over 200 fields.