LSUE Radiologic Technology Class Receives Pins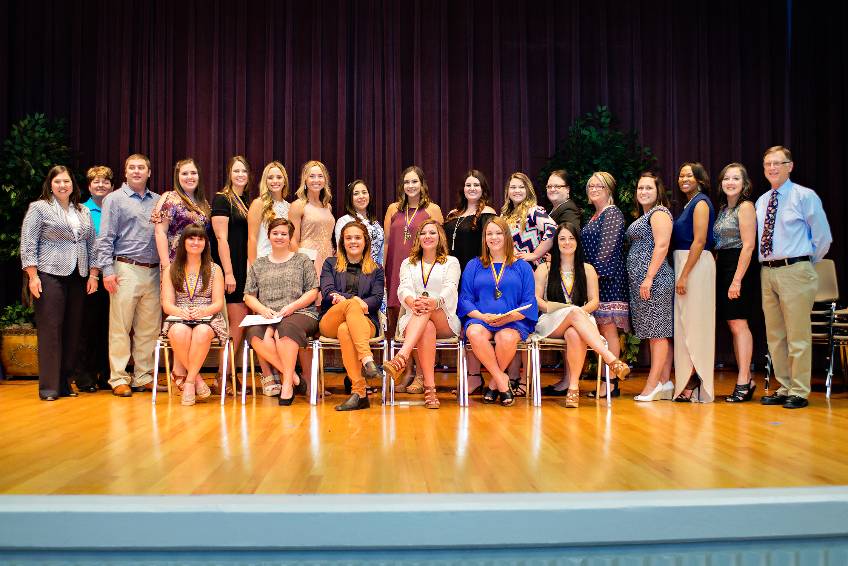 05/19/2016
EUNICE - The 2016 graduating class in Radiologic Technology received their pins in ceremonies held this week at LSU Eunice. Nineteen graduates were honored at the annual pinning ceremony after spending four semesters in the top-ranked program in Louisiana.
Graduating from the programs was Cora Abshire, Abbeville; Travis Abshire, Lafayette; Amy Amiot, Eunice; Laura Bonilla, Lafayette; Kadi Bourgeois, Eunice; Tammany Boutte, Kaplan; Hali Colligan, Rayne; Lucinda Daigle, Scott; Kimberlyn Fruge, Eunice; Ashley Green, Youngsville; Jillian Jacobsen, Eunice; Ashley Kelly, Opelousas; Kelly Kimball, Lafayette; Chelsie Mistric, Washington; LeAnn Perrodin, Lake Charles; Tori Robin, Breaux Bridge; Ashton St. Germain, Jennings; Halie Stelly, Krotz Springs; and Caitlyn Stykowski, Lafayette.
Honored during the ceremony were Boutte, Fruge, Kimball, Mistric and Stykowski. Kimball earned the program's top scholastic award. She received the Outstanding Scholastic Student Award which is given to the student with the highest grade point average in the class. Fruge was name the Outstanding Clinical Student, given for outstanding clinical performance at Opelousas General and the Outstanding Clinical Student Award from Our Lady of Lourdes Regional Medical Center was Stykowski.
The Outstanding Achievement Award was awarded to the student with high grade point average, outstanding clinical performance and outstanding character. The award was presented to Chelsie Mistric. Boutte was presented with the Distinguished Senior Student Award which is voted on by the class and given to the student they felt was most helpful or inspirational during their time in the program. She was recognized for her work and service as the class president.
The university's Radiologic Technology program is one of the top in the nation, consistently having a 100 percent pass rate on the national board exams.