DeVillier to Speak at Commencement
05/17/2016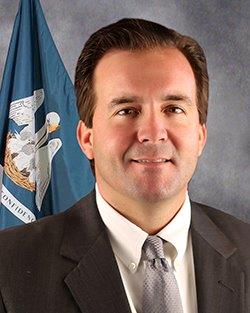 EUNICE – Freshman Representative Phillip DeVillier will be the commencement speaker when Louisiana State University Eunice holds fall graduation ceremonies at 10 a.m. Friday, May 20, in the gymnasium of the Health and Physical Education Building.
Over 190 students are candidates for graduation.
DeVillier has deep roots with LSU Eunice, graduating in 1995 from St. Edmund Catholic High School and then attending LSU Eunice. Manuel Hall on the LSU Eunice campus was named for DeVillier's grandfather, Gladney Manuel, who was president of Acadiana Bank and served on the Louisiana Transportation Board.
He went on to attend the LSU School of Business and graduated with a Bachelor of Arts in 1999.
DeVillier started as an apprentice in the family business and worked his way into management. Learning the value of hard work early allowed him to strike out on his own and allowed him to open Louisiana Structural Movers.
In 2015, DeVillier ran for term-limited Mickey Guillory's seat in the Louisiana House of Representatives. He defeated two opponents with 56 percent of the vote. DeVillier is term-limited to three terms in the House.
The Republican legislator serves as a member of the House Agriculture, Forestry, Aquaculture and Rural Development Committee. Additionally, he serves on the House Natural Resources Committee and the Select Committee on Atchafalaya Basin Program Oversight. He was also appointed to the House Ways and Means Committee, the chief tax-writing committee of the House.
DeVillier resides in Eunice, and he and his wife, Lisa, have three children: Savannah, Jillian, and Cooper.
LSU Eunice offers associate degrees in liberal arts, science, business information technology, criminal justice, education, fire science, general studies, management, nursing, radiologic technology, respiratory care, and numerous transfer programs in over 200 fields.
------
Representative DeVillier's House of Representative's Website
-----