Kuder Journey and Career Assessment

Follow the instructions below to begin using the Kuder Journey and Career Assessment for reliable career planning guidance.
Accessing the Kuder Career Assessment
When you click the Enter the Kuder Career Assessment button below, you will be routed out of the LSUE website, and the Kuder website will open in a new window. Keep this window open to follow the below steps to register and begin the assessment.
ENTER THE KUDER CAREER ASSESSMENT


Registration and Login Instructions
Step 1 of 4: Click "I need to create an account," then click "I am a college student. Then fill out the next fields, entering in the following Activation Code:
ACTIVATION CODE: J6533889JUG


Step 2 of 4: Enter in your name and other information.

Step: 3 of 4: Create a unique username and password. Save this login information for your future reference.

Step 4 of 4: Indicate your ethnicity and race (optional) and check the box that you have read and agree to the terms and conditions. Done!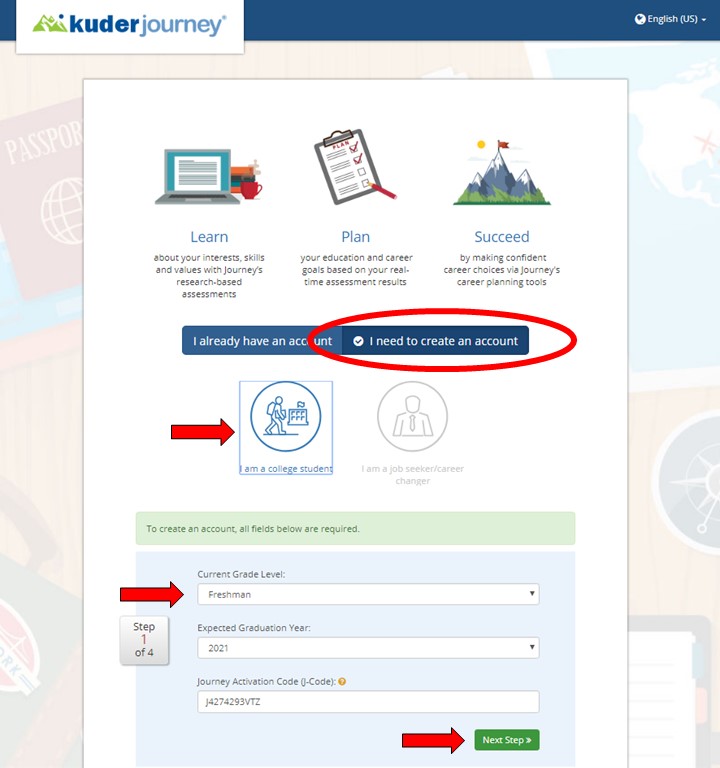 Taking an Assessment
To begin, click on "Take an Assessment" on the right panel. It is recommended that you take all three assessments to gauge your skills (what you are good at), your interests (what do you like to do), and your values (e.g. making more money, travelling, working weekends, workplace environment etc.).

Interpreting Your Results
After you complete an assessment, your top 5 recommended professions based on your answers will be displayed. You can view your portfolio and assesment results by navigating through "My Portfolio Items" on the left navigational menu.
If you need any assistance with accessing or taking the Kuder Assessment or if you would like to discuss your Kuder Assessment results with an Academic Advisor, please contact the Student Success Center at studentsuccess@lsue.edu or call 337-550-1206 to speak over the phone or to schedule a face-to-face appointment.