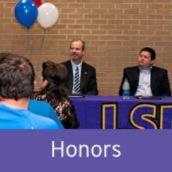 .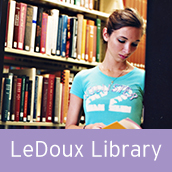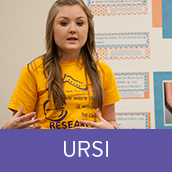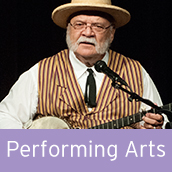 LeDoux Library
With new digital electronic technology, older VHS tapes can now be converted into DVDs (digital video discs) and with this accelerating and evolving age of information
technology, the Liberty Theater's "Rendez-vous des Cajuns Music show" performances are now being archived and catalogued at the LeDoux Library at Louisiana State University Eunice.
Through a community grant provided by All State agent John Guillory, who serves on the LSUE Foundation board, the public and campus students and the LSU Eunice community will have access to view Liberty Theater's past live performances on DVD's.
Jerry "Booksack" DeVillier, a Eunice videographer, provided and donated to LSUE his VHS tapes and copies of Liberty performances, dating from 1986 to March of 2003.
LeDoux Library Director Gerald Patout said, "This is how the process began with DeVillier's VHS tapes and then a community grant. DeVillier wanted our LSU Eunice library to have his VHS copies of Liberty performances and available for public use here in Eunice."
Patout said that UL-Lafayette also has copies of the Liberty Theater performances on VHS tapes and they began making DVD copies of VHS taped performances years ago, from VHS tapes to DVD recorders.
Patout added, "This process of converting all the performances to DVD's took UL five to six years. Via the All State grant, LSU Eunice and LeDoux Library were able to purchase a high-speed DVD duplicator and then use an "original" copied DVD from ULL and Jerry DeVillier of all the performances. With the DVD duplicator, LSU Eunice and the LeDoux Library were able to make copies of all the performances in DVD format over the course of about three months this summer.
"Again, with grant funds, the LeDoux Library hired a community projects student worker Ana-Alicisia Soileau, who was trained to use DVD duplicator and she quickly was able to repeatedly make DVD copies of all of the Liberty performances exactly recorded from Devillier's original VHS tapes.
"Approximately every 30 seconds, Soileau was able to record a performance, a process that would have taken nearly 5 or 6 hours had the project not been able to use the already converted VHS tapes to DVD format.
"Additionally, as the DVD's were duplicated as an archival copy and and in library use only copy, Soileau began the tedious process of labeling the LeDoux Library copies. Once copied and then labeled, the DVD project began the process of compiling the program data.
"A Liberty Theater DVD performance database been established and Soileau began the process of putting in the raw data in chronological order, starting with DVD #001, performance date 8-11-1986, with the Hackberry Ramblers as performers."
The LeDoux Library is now in the process of completing the database of Liberty Theater performances as they have approximately 260 DVD's entered into their records and are awaiting the arrival of a new student worker that can complete the data entry segment of this effort.
Patout added, "The All State grant and agent John Guillory's support for this effort has provided the LeDoux Library and the Eunice community with a real music treasure that speaks directly to Eunice's cultural heritage."
URSI
Four students reviewed their research projects at the 2012 Undergraduate Research Summer Institute Poster Symposium at the LSU Eunice LeDoux Library last Friday.
URSI, funded in large part by corporate partner SLEMCO, provides a four-step learning process through which student-faculty teams explore a variety of subjects.
Such work is ordinarily done at four-year institutions but was brought to LSU Eunice by Chancellor William Nunez when he arrived from his former post at a four-year school.
The program is under the auspices of the LSUE Foundation.
The students in this year's program, their faculty sponsor and their project were:
Emily Morgan, respiratory care student; Kathleen Warner, program director & instructor respiratory care; CMS (Centers for Medicare and Medicaid) to Base Reimbursement on Patient Satisfaction Survey Results;
Kristie Broussard Leger, RDMS, RVT, DMS student (2012 graduate; Danielle Bertrand, program director & instructor DMS; Abdominal Aortic Aneurysm: Simple Scrteening Could Save Your Life; Jade Latiolais, student radiographer; Camille M. Lavigne, radiologic tech instructor; New Catheterization Lab Technology; Peyton Roteff, student; Dr. Chad Huval, assistant professor chemistry; Melting Point Studies of Tartaric Acid Isomers.
The CMS project found that hospital administrators, whose facilities are already struggling financially, are very concerned that the validity and the abundance of factors beyond their personnel's control
Beginning this month, CMS will begin to base hospital reimbursements in part on patient satisfaction survey results.
The aneurysm study revealed that a simple method for screening for the presence of abdominal aortic aneurysms using ultrasound can detect an abnormal widening of the artery, which in turn can lead to treatment prior to a life-threatening rupture.
Such ruptures are the 13th leading cause of death in the US.
The catheter project notes that the Latch Catheter, brainchild of Kevin Latiolais provides fundamental changes to the way vessel catherization is currently done.
The isomers research notes that racemic mixtures have a much greater melting point than its pure isomer, and it appears the two isomers interact when they begin to melt.
Performing Arts Series
The Performing Arts series brought artist like Songwriter/Storyteller Riverboar John Fergueson and Singer Songerwriter Kate Klim to campus.
Athletics
All fairy tales follow the same guidelines. They all include a wish and dream that the good and main character struggles to achieve in the midst of fighting through obstacles
and hardships, but in the end the good character prevails with a happy ending while teaching us an underlying message.
The story of Dani Leal is no different.
Leal, LSU Eunice's new assistant softball coach for the 2012-2013 year, carries with her the same story of struggles, hardships and achievements, all of which have led her to the Bengals.
Born and raised in Mexico City, Leal grew up as the middle child of three with an older and younger brother. Never one to be a "girly girl" and play with dolls, she was always doing everything her brothers did.
At seven years old, that included playing baseball.
"I was seven years old when my older brother started playing baseball in a league and I wanted to try it too," Leal said.
"My parents talked to one coach that needed a player and asked if I could play on his team, he agreed and told me that I needed to practice with the team for the week before the weekend games."
But things weren't always perfect for Leal, recalling that her teammates were mean to her and not accepting of having a girl on their team.
"At first, they really didn't talk to me and I felt like they didn't like to have a girl around because there were a couple of times that they threw rocks at me when I wasn't looking," she said.
Despite hating her first week and telling her mom that she didn't want to play anymore, Leal compromised with her coach and agreed to at least play for the weekend.
Leal, and a lot of other people, should probably go back and thank that coach now.
In her first at-bat that weekend, she connected for a double and that was that.
"I got to second and my mom said I had the biggest smile on my face. At that point I knew that was what I wanted to do," Leal said.
But again, everything wouldn't go smoothly from there.
Leal would play baseball with the boys until she was 13, when the president of the organization her baseball league was a part of didn't believe in girls playing a men's sport.
From there, Leal gave softball a try - the next closest thing to baseball she could play. Her transition seems to have worked out for her, beginning first when she was a member of the Mexican National team for two years in 2005 and 2006.
"Playing for the national team was an experience that I will never forget; it was an honor to represent my country at the age of 15 and being one of the youngest players on the team," she said.
But even as a member of her country's national team, Leal hadn't given a thought to playing the sport in the United States as sports weren't big overall, with no high school sports.
In another turn of fate, during her junior year of high school, the head softball coach from Pratt Community College happened to be in Mexico on vacation and stopped in to see and recruit players in the league Leal was a part of. He saw Leal and got her information, beginning to call her in her senior year asking about coming to play for him.
That was the first time she thought about playing in the United States.
"Getting recruited by my coach was honestly a lucky shot. I was at the right place at the right time. I had no idea that he was there or that he was recruiting. I really didn't know anything about how everything worked," she said.
Leal would accept the offer to play at Pratt Community College, only to find herself in the middle of Kansas (literally) and in the middle of one of the toughest times in her life.
With a limited grip on English that Leal said would hardly allow her to put two sentences together, her first semester class schedule included classes like Psychology and American History.
She lived with an American family and played on a team were the rest of her teammates were American except for one other player.
"I had to learn the language the hard way. Not only the language was different, the culture and the fact that I was living on my own at the age of 17," Leal said.
"I had to grow up very quick. It took me four months to be fluent in English, this is my sixth year here in the States and I'm still learning new things every day."
While at Pratt Community College, she racked up all-conference and all-region honors.
Leal also became involved with the Wichita Mustangs ASA travel ball program. It was through the Mustangs that she caught the attention of Baylor University coach Glenn Moore, who had several players on the team and travel organization, and ultimately helped recruit Leal to Waco, Texas.
"Going to a Division I program was something completely different. I had a few offers from different schools but Baylor was the perfect fit for me. My coaches were great role models and not having my parents with me physically, I found in them something that made me feel like home," Leal said.
"The facilities were the best I've ever seen in my life, my teammates were the sisters I never had, and Waco was my home. The 3 years I was there were very special for me because I reached many mile stones and accomplished so many goals that made me the person I am today."
Personally, Leal's transition to Baylor was tough on a variety of levels, from the classroom to the game.
Despite everything, she was Baylor's starting shortstop and finished the season as the team leader with nine home runs before having her season cut short with a fractured forearm.
That summer, Leal stayed in Waco to begin her rehab and her path back to the field.
"I wanted to be the best I could be and help my team to get to the top so I worked harder than I've ever had and prepared myself for the upcoming year," she said.
She finished her senior season leading Baylor in both RBIs (with 45), in batting average (.345) and again in home runs (with 14). In addition, she was honored and named a first-team All-Big XII selection, a first-team All-Region player and a third-team All-American.
As a team, Leal's senior year was Baylor softball's best season in program history.
They won the regionals in Maryland, moving to the Super Regional where they beat Georgia at home 2-out-of-3 games in what Leal said was the most hostile environment she ever played in. The Super Regional win sent Baylor to the NCAA World Series in Oklahoma City where they finished tied for third in the nation with Alabama.
Leal finished her career sixth on Baylor's all-time home run list.
She spent the 2012 season as a student assistant coach on the Baylor staff while finishing her studies and graduating with her degree in General Studies from Baylor University in May 2012.
That's where LSU Eunice became involved.
"Once I was done with my softball career, the thought of going pro crossed my mind but my heart was set on something else. This sport has given me so much that all I wanted to do is to give back and maybe become that person that my coaches were for me," Leal said.
"I heard about LSUE from one of my former teammates. She is from Baton Rouge and a good friend of the last (assistant) coach Brandi Alonzo. She told me that the position was open, and Louisiana was a place that I've never been before. Sounded exciting and it was something new."
She said her first months in Eunice have been great so far and one of the main reasons is because of the team.
"The girls are great with me. I thought it was going to be hard for them to see me as their coach since I'm only a couple years older than them but they respect me as their coach and believe it or not, they listen to me very well," Leal said.
As for the outlook for the 2013 Lady Bengals, a team with a NJCAA National Championship and a national runner-up finish in the past two seasons, Leal the coach has already deciphered her team.
"I see a very promising season ahead of us. The girls have been working hard this off-season and they are getting ready for when spring comes. I hope that the girls apply all the training and tools that have been given to them when it's time to step on the field."
Deciphering her own future, however, is a little harder. She sees herself going back to school for a Master's Degree in Sports Pedagogy and then getting back into coaching and hopefully becoming a part of a successful Division I program.
I'm the type of person that wakes up every morning thankful for what I have ahead of me that day," she said.
"I'm just living day by day trying to fulfill what God has planned for me."
In the end, Dani Leal's story mirrors that of any other fairy tale. From a young age playing against the boys, to adapting to a new country, to becoming one of the best in her sport, she has gone through all the ups and downs.
Her determination reminds us all to push for what we want and to not be afraid of going after our dreams no matter what they are.
However, looking back at what Leal has accomplished and what she has yet to conquer, this fairy tale seems to be far from over. In fact, it's actually just begun.