Respiratory Students Receive Pins
12/12/2017
EUNICE -- The 2017 graduating class in Respiratory Care received their pins in ceremonies held this week at LSU Eunice. Twelve graduates were honored at the annual pinning ceremony after spending four semesters in the top-ranked program in Louisiana.
Receiving pins in the ceremony were Christopher Paul Briley of Carencro, Amy Leah Brown of Lecompte, Bobbijo Julia Dupras of Lake Arthur, Layna Michelle Fontenot of Basile, Jennifer Paige Frey of Opelousas, Allison Claire LeJeune of Church Point, Mallory Anne Perry of Crowley, Printess Shone Richard of Jennings, Shelby Elizabeth Savoy of Eunice, Aaron Joseph Trahan of Youngsville; Kelsey Rae Viator of New Iberia; and Jessica De Ann Whillock of Church Point.
Two students received the Outstanding Student Award which is given to the student with the highest grade point average in the class during the clinical phase of the program. This year the award was by Louisiana Society for Respiratory Care chapters. Receiving the award from the Lafayette area's Chapter 5 was Frey and Brown was presented the award from Alexandria's Chapter 3.
Dupras earned the Distinguished Student Award which is selected by class members and honors the student who is a role model for others in the program.
The Bengal Spirit Award was presented to a student in the class who contributed above and beyond to the mission of the program and the university. Richard was this year's recipient.
Christopher Smith, a respiratory therapist, addressed the students, telling them to "use the wisdom and guidance of your instructors to be a helping hand and smiling face with your patients." Smith works at Our Lady of Lourdes in Lafayette.
The university's Respiratory Care program is one of the top programs in the nation, consistently having a 100 percent pass rate on national board exams.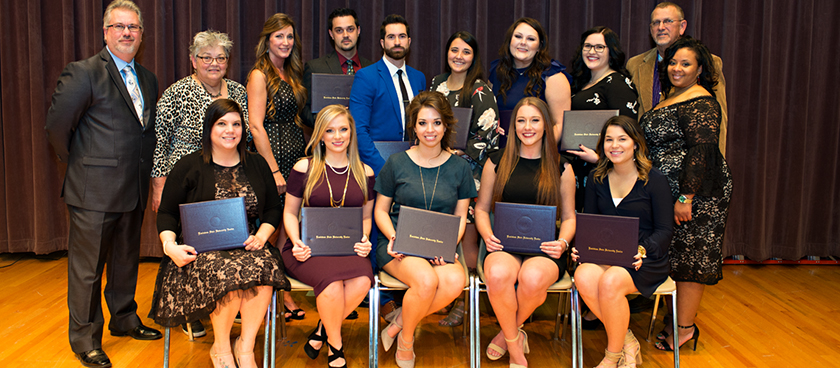 Members of the 2017 Respiratory Care class are pictured with the LSU Eunice program's faculty are (seated) Julia Dupras, Amy Brown, Jennifer Frey, Layna Fontenot, and Mallory Perry. Standing are David Asbury, Clinical Instructor; Jackie Bush, Clinical Instructor; Kathleen Warner, LSU Eunice Respiratory Care Program Director; Christopher Briley, Aaron Trahan, Kelsey Viator, Shelby Savoy, Allison LeJeune, Michael Wyble, Clinical Director; and Printess Richard.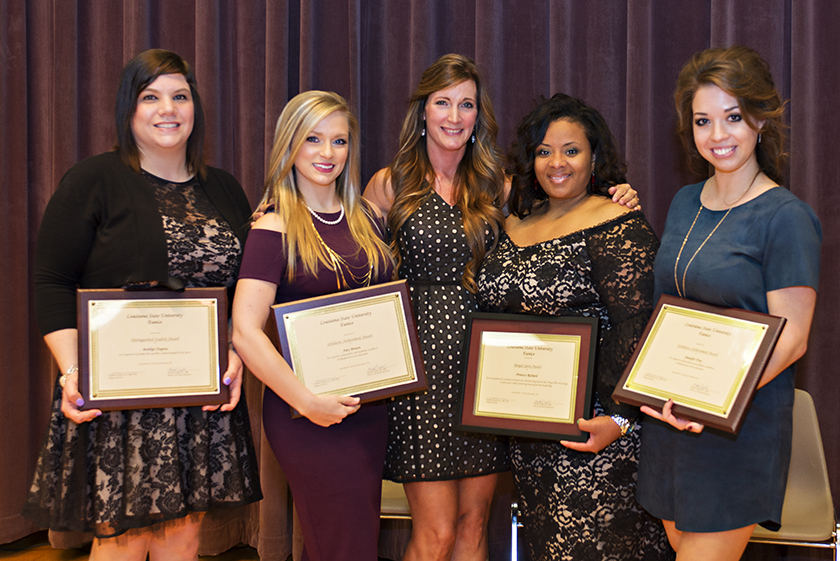 Honored at the 2017 Pinning Ceremony by LSUE Respiratory Care Program Director Kathleen Warner (center) were Bobbijo Dupras, Distinguished Student; Amy Brown, Outstanding Student; Printess Richard, Bengal Spirit Award; and Jennifer Frey, Outstanding Student.