LSUE Signs 2+2 Agreement with Northwestern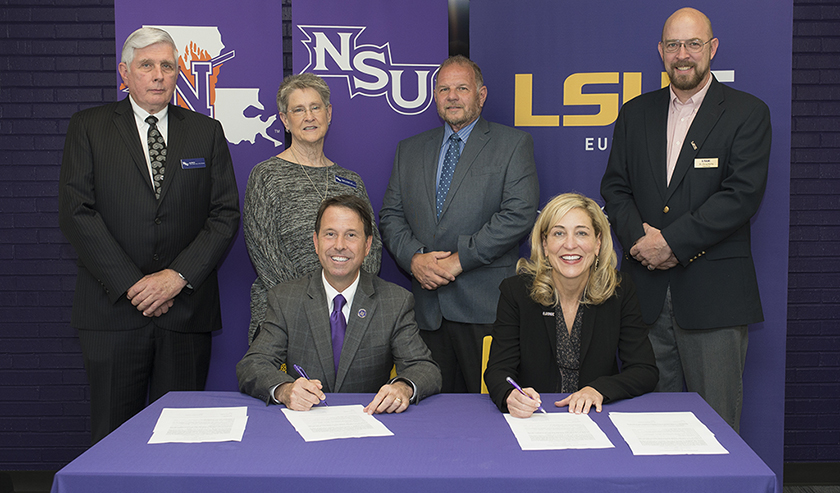 04/17/2017
EUNICE -- New agreements between Northwestern State University and Louisiana State University at Eunice will allow students pursuing degrees in criminal justice and unified public safety administration to apply credits earned at LSUE to bachelor's degree programs at Northwestern State. The memorandums of understanding were formalized Thursday by administrators, who said that both traditional and non-traditional students expressed a need for opportunities in which associate degree credits could transfer easily into a baccalaureate program.
Administrators say students who complete the programs will have more skills and marketability with a wide range of professional opportunities available for careers in law enforcement, information security and forensic science.
"LSUE students have voiced a need to be able to transfer their credits to a 4 year institution that will accept their degree credits. This seamless transfer of credits allows students to complete their degree in an efficient manner with a minimum loss of credit hours," said Joe Morris, head of NSU's Department of Criminal Justice, History and Social Science. "Both Universities serve the needs of their constituency and are responsive student-oriented institutions that prepare their students to become productive members of society as well as promote the academic development and improvement in the quality of life of citizens in their regions. This is a win-win for all involved, students, universities and citizens."
"Before today, there are no agreements available in Louisiana for Fire and Emergency Service graduates at the associates level to continue the academic and professional careers," Steven Gontz, LSUE's program coordinator of Public Protection and Safety. "This agreement allows our students in that area an opportunity to easily transfer their coursework towards a bachelor's degree in unified public safety administration at NSU and advance in their careers."
One memorandum of understanding provides that students who complete the associate of science degree in criminal justice at LSUE can transfer all credit hours to NSU for partial fulfillment of a bachelor of arts degree in criminal justice. NSU's baccalaureate program provides a full complement of criminal justice courses in which additional courses in sociology, psychology and political science are available.
The second MOU will allow students who complete LSUE's associate degree of applied science in fire and emergency services with a concentration in emergency services technology to transfer credit hours towards a bachelor of science degree in unified public safety administration at NSU. UPSA develops professionals for work in federal, state and local agencies that address homeland security and cybercrimes.
"These agreements are a direct response to needs expressed by students," said Dr. Chris Maggio, NSU's acting president. "We are honored to work in partnership with another institution that is willing to create pathways for students to continue on in pursuit of their educational goals."
"We are so pleased to partner with NSU to offer a 2+2 in Criminal Justice. This partnership provides a seamless pathway for LSUE students to complete a baccalaureate degree in a high demand field of study offered by both institutions," said Dr. Kimberly Russell, chancellor of LSU Eunice.