Performing Arts - Rondi Charleston - Jan 25
1/3/2017
EUNICE -- LSU Eunice Performing Arts Series will present Jazz musician Rondi Charleston at the Liberty Center for the Performing Arts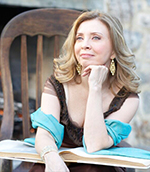 in Downtown Eunice on 6:30 p.m. Wednesday, January 25.

Tickets are $2 for students and $4 general admissions and can be purchased at the door or the LSU Eunice Business Office located in the Science Building on the LSUE campus. Tickets are currently on sale.

Charleston is an award-winning jazz singer/lyricist/composer whose work has appeared in film, TV and on stage throughout the U.S. and Europe.

Her most recent album, Signs of Life, climbed the Jazz Week charts for ten consecutive weeks and had critics raving; Jazz Times proclaims: "she is a songwriter whose poetic, narrative, and compositional skills are comparable to such modern masters as Joni Mitchell and Paul Simon."

Charleston's performance is made possible by a grant from the Louisiana Partnership for the Arts.