Allegro String Quintet to Perform March 7
02/18/2016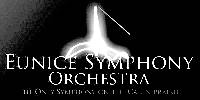 EUNICE -- The Allegro String Quintet of the Eunice Symphony Orchestra will perform on March 7 at 6:30 p.m. in the LSU Eunice Health Tech Building auditorium as a fundraiser for the university's Performing Arts Series.
The Allegro String Quintet is made up of three violins, a cello and a string bass. Performing will be Gillian Trahan, cello; Kathleen Carson, viola; Jonathan Thompson, string bass; Heather Thompson, violin; and Nancy Simon, violin.
Tickets are free to LSU Eunice students with their ID and $3 for general admissions. Tickets are available at the door.
The LSUE Performing Arts Series brings a variety of arts events to the campus each year. For more information, contact Dr. Anthony Baltakis at 337-550-1326.
--------
Contact:
Dr. Anthony Baltakis
Director of Perfomring Arts
337-50-1326
abaltaki@lsue.edu